General release notes for features and fixes are listed here for each release.
Version 2.3.0
14 June 2022
New Brand KPI & Benchmarks Report

A new report to show a brand's search KPIs and benchmark them vs the competitors in the category or keyword set. Search KPIs include search volume, number of keywords, organic rankings, share of voice, and share of sales
Benchmarks indicate how well positioned a brand is vs the best in class for the category in keyword shelf counts, sponsorship activity, organic rankings, and more

Updated Keyword Snapshot (New Metrics!)

The keyword snapshot report that you know and love has been updated with major improvements. The report has been streamlined to bring the most important metrics to you
New Keyword List for looking at metrics on a per keyword basis for an entire basket of keywords
New Metrics: Conversion Rate, Branded and Non-brand search volume breakouts, Keyword Unit sales volume estimates and more!
Version 2.2.0
6 May 2022
New Menu navigation

We have adjusted our navigation a bit to provide a better user experience.
All Pro tools now have an indicator on them and are placed throughout the menu system where they live side by side with the other related tools to enhance the usability
New Keyword Research menu now places all of your keyword research tools in one place to discover keyword opportunities, expand on related keywords, and view search volume trends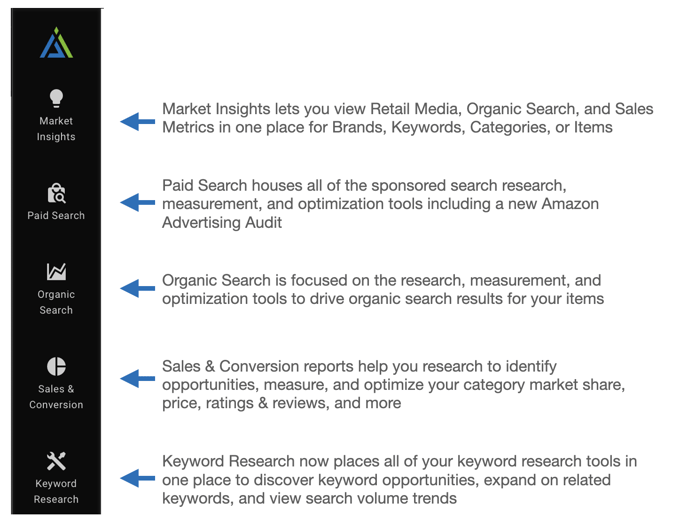 New Pro Tools:

Share of Voice (Cross Retailer)

The first-of-its-kind cross-retailer view of share of voice. See how your items are competing across marketplaces in one single report. View share of voice, sponsored vs organic share of voice, Above the Fold share of voice, and more across every marketplace you are subscribed to.

Sponsorship Impact Tracker

See the impact that your sponsorship activity has on your organic rankings, branded and non-branded search volume, and sales performance vs your competitors. Adjust your campaigns to maximize long term impact and measure the results in more than just impressions, and clicks.

Title Optimization Tool

Analyze your items in bulk or one at a time to see how well your base keywords are represented across your products. This tool allows you to quickly see which titles need adjustments to comply with retailer suggestions and requirements as well as optimizing for shopper engagement.

Amazon Ad Audit

We have released our interactive self-service Amazon Ad Audit. Your data comes to life with the ability to apply filters at the portfolio and campaign levels in addition to keyword and metric filters.

New Metrics:

Search Volume Estimates

We have upgraded our search volume estimates to show Amazon's search volume instead of just a percentile or rank information. The search volume can be aggregated across multiple keywords, categories, brands, and items to understand the true shopper demand for your products from all angles.

Category Sales Share

We have now implemented category sales share to compliment the original category unit share metrics. This allows you to see the market revenue share vs your competitors for any category or group of categories
Version 2.1.0
16 February 2022
New:

New Ad Audit report released in Pro Tools - get a downloadable PDF report full of rich analysis of your advertising campaigns from your Amazon Advertising data.
New Multi-Retailer price tracker released in Pro Tools - analyze price trends across retailers for products over time
New Branded/Non-branded search filters to look at keyword data for branded or non-branded keywords or narrow the filter to a particular brand's branded keywords

Changes:

Report names now appear in the browser tabs and browser history to help remember which tab contained the report you were looking at
Various usability enhancements and bug fixes
Version 2.0.0
22 January 2022
New:

New navigation featuring reports for Paid Search, Organic Search, Sales & Conversion and Market Insights
New tools and trackers focus in Paid Search, Organic Search, and Sales & Conversion
All new Market Insights reports to get a comprehensive view of the marketplace by Brand, Item, Category, or Keyword
New Pro Tools featuring customized tools to help integrate into your business processes
All new Head-to-Head competitive comparison reports in Paid Search, Organic Search, and Sales Intelligence
All new Keyword Discovery reports to identify opportunity keywords by item, brand, category, or keyword as a starting point.
All new Search Results Time Machine report to see what the search results were at any point in time as well as compare changes between time periods.
All new Sponsorship Activity Tracker to view sponsorship activity by brand for any category or basket of keywords. The new report also breaks down the activity by advertising type: Sponsored Product, Sponsored Brand, and Sponsored Brand Video

Changes:

Enhanced Category Sales Share metric shows the share of unit sales now instead of just the item counts.
Consolidated report title area giving more space for the dashboard to show on smaller screens
Enhanced Navigation shows the title and a short description of the report for more context in use cases
Combined Keyword Trends & Keyword Trends compare to a single report giving the ability to do both comparisons and trends in one place
Simplified Price Tracker for tracking item prices for each retailer
Combined Category Performance and Category Snapshot to get category intelligence in one place
Version 1.0.6
3 June 2021
Changes:

Category Snapshot Report has been updated with additional tiles for average price, first party/third party split, and keyword count.
Period over period change has been added to the Share of Voice keyword list, showing change in share from the start to the end of the selected date range.
Traffic Percentile values are now available in tables that include keyword lists. These values show a comparison of how frequently different keywords are searched.
Renamed "Full Category Name" to "Category Tree" in reports.
Added drill functionality to Category Tree. This field now has drill options for the Category Sales Performance, Category Snapshot, and Pricing Snapshot dashboards.
Added Category Tree as a filter in all dashboards with a Category filter. This shows the full department and category hierarchy of a given category and allows for filtered searches of subcategories from any category level.
Category filters are still available but have been moved to the "more filters" section.
Released informed filters for Retailer Site, Department, Category Tree and Category. Filtering on any of these fields will filter suggestions on lower filters accordingly. For example, if Retailer Site "Walmart.com" is selected then only Departments within Walmart.com will be displayed as Department suggestions.
Version 1.0.2
26 February 2021
New:

All new dashboards have been released!
Reports are now separated by function (Search, Sales, Brand/Item Performance)
Data Export is a new way to export item level data for search and sales
New Knowledge Base and support forms to get help when you need it
More features coming soon!